Energy Efficient Products for Your Home
It has never been more important to make sure that your home is keeping the heat in your home and operating in an energy efficient manner, given the increasing cost of energy bills. 
At Passivlux, our selection of high performing, thermally efficient, double glazed windows and doors, we are happy to say that we can assist you in accomplishing exactly that!
How Can You Lose Heat in Your Home?
You will be able to tell if your home is energy efficient due to droughts, your home being generally cold and relying on your heating system – your home's energy bills will increase if this is the case…
If your windows and doors are old and made from weak materials, they may also be struggling with water ingress or aesthetic damage from the UK weather conditions. If this is the case, you may be losing heat because your home is not performing as expected, but this may not be the only problem.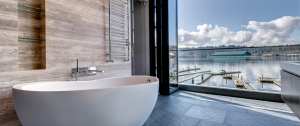 How Can You Fix This?
What is the best solution to these issues? Installed by trained professionals, our stunning Passivlux range of energy efficient windows and doors have a high energy rating, giving you a successful carbon footprint. 
When it comes to energy efficiency, we offer the following:

At Passivlux, we know that all of our brands achieve the best performance ratings for your home, giving you high quality results. This indicates that they are extraordinarily effective at trapping the cosy and warm heat inside your home, without the need for an excessive amount of central heating. What more could you want?
Glazing Options
Due to inert gases being used to effectively prevent heat movement through glass panes, double glazing offers an impressive energy efficient solution. Our window and door frames are manufactured with clever thermal approaches that help them maintain better heat retention throughout your home. 
At Passivlux, we are proud to provide many years of experience; our fitting team will provide a smooth and seamless installation, ensuring that your new energy efficient windows and doors fit perfectly, eliminating any problems that can be caused by poor installation techniques. 
Our team always ensures that each installation is customised to the exact dimensions and fits perfectly. Why not take a look at our extensive range of energy efficient window and door styles and get started on your journey to combat heat loss, improve the performance of your home, and reduce your energy bills.
For more information, please visit our FREE online quoting engine or contact us at Passivlux today!

We look forward to speaking with you and discussing your next energy efficient solution.
Categories: Energy Efficient Windows, Passivlux
---