Is Triple Glazing Worth It?
What is Triple Glazing?
As energy bills continue to rise, it's becoming more significant than ever to keep an eye on energy saving products. In the short term, triple glazing comprises three panes of glass rather than one or two. Due to this extra pane, your property can improve its thermal performance and noise reduction, which is why it's becoming more popular every day.
However, is that extra pane of glass worth it? Continue reading to find out!
Triple Glazed Window Benefits
That one extra pane of glass may not bring many benefits to your home; however, it makes a huge difference. The additional pane further reduces noise levels from the outside and increases the efficiency of your home by preventing air from escaping easily. Below is a list of all the exceptional benefits that triple glazing has to offer each household:
Increased energy efficiency – leading to lower energy bills
A warmer home, leaving you with comfortable and cosy living space all year round
Low U-values
Noise reduction – ideal for those living by a road, in a flat, or the city
Potential to increase home value
Durable and secure – preventing potential break-ins and strong weather conditions
Contributes to reducing condensation
Low maintenance
Triple Glazing vs Double Glazing
All these incredible advantages highlight how much triple glazing can benefit your property. Although it's important to clarify the differences between triple glazing and double glazing, we do this by a U-value rating. U-values are the energy efficiency measures typically related to the home improvement industry; the lower the U-value, the better. Now we know this, we can understand the difference between each glazing option.
Single glazing has a U-value of 5W/m2k, alongside older double glazing, which levels to around 3W/m2k. However, modern double glazing typically has a rating of 1.6W/m2k, which is due to improved glazing methods over the years. Each improvement has been made by improving the window profile, special low emission coatings using inert gas to fill the gap using thermal bridges.
Due to these features and specific changes, the U-value of each window has decreased dramatically already. However, some models of windows like Rationel can reach U-values as low as 0.8W/m2k! Measurements like these show an incredible improvement on modern double glazing; this is generally why most new builds are being built with triple glazing.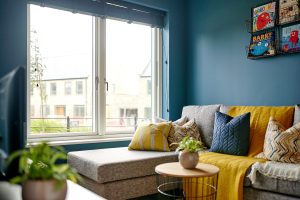 Can Triple Glazing Add Value to Your Home?
Due to all the exceptional benefits and advantages that triple glazing has to offer, it's no surprise that it has the potential to add value to your home. If you choose to sell your property, a great selling point would be how your triple glazed windows provide a well-insulated home with low energy bills. These features will appeal to any potential buyer.
Your Passivlux Triple Glazing Solution
Are you looking to upgrade your double glazed home to triple glazing? At Passivlux, our Kent showroom displays our triple glazed products, and our specialists can show you their benefits face to face!
For an estimated, bespoke triple glazing price, please enter your details into our online quoting engine and get your FREE cost. If you have any further questions, call us directly on 01227 379 984 or send us your queries via our online form.
We look forward to hearing from you soon.
Categories: Passivlux
---