What is Passive House?
With the rise in the cost of living in the UK, more and more homeowners are looking for energy efficient solutions to lower their energy consumption, save money on bills and reduce their carbon footprint. Passive House is the answer to all such homeowner's queries.
Developed in Germany in the early 1990s, Passive House is a tried and tested construction approach that provides property owners with various proven ways to deliver net zero ready new and existing buildings. Passive House buildings provide excellent comfort conditions while consuming very little energy for heating and cooling.
At Passivlux, we supply and install Internorm windows and doors that meet and exceed Passive House standards.
Triple Glazed Internorm Windows
We offer timber aluminium and uPVC aluminium windows by Internorm with a comprehensive range of high performing glazing solutions. With triple glazed timber aluminium windows, you get a solid hardwood core to fully insulate your home and aluminium cladding to protect your windows from harsh weather conditions.
These excellent timber aluminium windows will improve the thermal comfort of your space as they achieve U-values as low as 0.62 W/(m2K), which is even lower than the Passive House standard requirement of U-values as low as 0.8 W/(m2K). The inside of these windows is constructed from hardwood to provide the desired natural, cosy appearance. The type of wood used to make these doors, whether spruce, larch, oak, ash, or walnut, exudes warmth and elegance. The sleek aluminium on the outside is weatherproof and creates slim sightlines.
Internorm uPVC aluminium windows provide exceptional quality, thermal performance, and weather tightness. While uPVC is a material that does not absorb moisture, combining uPVC and aluminium results in low maintenance windows. The new KF 520 windows achieve unparalleled U-values of 0.63 W/(m2K), making them a Passive House suitable option for your home.

Thermally Efficient Internorm Doors
Whether you are looking for a stunning entrance door or a smooth sliding door for your balcony or patio, we offer high quality Internorm doors that can fit every requirement. You can choose from composite doors that combine the benefits of timber and aluminium or uPVC with aluminium cladding, or you can select sleek aluminium entrance doors or sliding doors. No matter the style, we can offer customisation and premium accessories and glazing to elevate the functionality and aesthetics of your home.
Our timber aluminium doors by Internorm can achieve U-values as low as 0.73 W/(m2K), matching Passive House standards. As well as thermal efficiency, these doors are durable and robust and provide an unrivalled level of security. By triple glazing your sliding doors, you can create flush appearances and improve insulation as the heat gets trapped inside, keeping your home warm in colder months.
Our technologically advanced windows and doors will keep the burglars out, prevent heat loss due to optimal thermal insulation, and keep rooms cool during the hotter months. We supply these Passive House suitable innovations for commercial projects as well as install them in homes throughout our service areas in Sussex and South East England.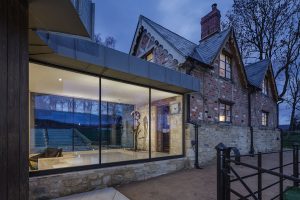 Low Energy Homes with Passivlux
With Passivlux as your trusted supplier and installer, you have the opportunity to create low energy homes that are Passive House suitable. We can help you reduce your carbon emission and help save the environment. You can feel confident in your investment as we would never compromise on the aesthetics while enhancing the functionality of your windows and doors. Each home improvement solution will be fully tailored to fit your style and taste.
To learn more about Passive House suitable windows and doors, call us on 01227 379 984 or fill out our online contact form, and our team members will get in touch to answer any queries you may have.
If you would like an estimated price, you can use our free online quoting engine and get a bespoke quote.
We would love to hear from you soon.
Categories: Energy Efficient Windows, Internorm Windows and Doors, Passivlux
Tags: Low energy performance windows, thermal efficiency, Triple Glazing
---