How Energy Efficient are Internorm Windows and Doors?
The rising energy prices in the UK have us all worried and scrambling to find ways to lower our energy consumption. In the colder months, keeping a warm home with windows and doors that can't stop the chilly draught from entering is almost impossible. At Passivlux, we want to bring high quality windows and doors with excellent thermal performance to help all residential and commercial property owners reduce their energy consumption and save money on bills.
We partner with industry leading manufacturers like Internorm to provide home improvement solutions that not only meet but exceed expectations. These windows and doors are a worthwhile investment with unmatched security standards, thermal efficiency, and ultra modern design.
Triple Glazing
While double glazing is a secure, thermally efficient, and durable solution, adding an additional pane of glass takes the benefits of glazing windows and doors to the next level. Triple glazing is essentially three strong glass panes joined together at the frame with a small gap between each pane of glass. The small gap is filled with an inert gas like krypton or argon gas.
Triple glazing helps reduce condensation and keep the warm air trapped inside. The temperature is regulated throughout, and your property will be comfortable all year round.
Internorm windows and doors incorporate high quality triple glazing that makes these solutions more secure and thermally insulated. Timber aluminium windows by Internorm can achieve U-values as low as 0.62 W/(m2K), which far meets and exceeds Passivhaus standards.
A house with triple glazed windows and doors will be protected from harsh weather conditions. No chilly draught or rain can enter through triple glazed solutions as they are the best home improvement products in the market. As the space gets abundantly warm and cosy naturally, the dependency on heating devices reduces, allowing homeowners to save money on bills.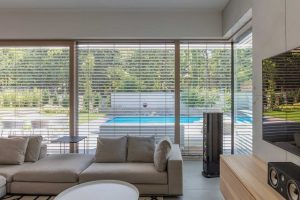 Passivhaus Windows & Doors
We are proud to work with a company that is committed to excellence and is a new patron member of Passivhaus Trust in the UK. Internorm has been perfecting the design and performance of their products for the past 90 years. Here at Passivlux, we supply and install Internorm windows and doors that meet and exceed Passivhaus standards, which is a tried and tested solution for low energy homes.
It is critical to understand that Passivhaus suitable construction is so much more than world leading energy efficiency and thermal performance solution. There are numerous advantages, including lower energy bills, fresh air all the time, superior internal comfort, peaceful and quiet interiors – the list goes on.
Internorm pays great attention to the functionality and design of their windows and doors and strives to provide Passivhaus suitable solutions. As Internorm's proud distributor partner, we provide our South East England homeowners with the opportunity to make a worthy investment in energy efficient windows and doors and reduce their carbon footprint. You can sit comfortably beside your triple glazed windows and never catch a chill. Enjoy warm and cosy spaces throughout your property with our comprehensive collection of Internorm windows and doors.
Energy Efficient Solution by Passivlux
At Passivlux, we provide home improvement services that add value to the lives of our customers. It is our aim to supply and install only the top quality products that have been rigorously tested and can withstand exposure to just about any climate and even modern burglary attempts.
To invest in energy efficient solutions, you can use our handy online quoting engine, and we will share a bespoke quote tailored to fit your property needs. Alternatively, you can call us directly on 01227 379 984 or fill out our online contact form, and our team members will reach out at the time most suitable for you.
We would love to help you transform your property with modern and profitable solutions.
Categories: Energy Efficient Windows, Internorm Windows and Doors, Passivlux
Tags: Triple Glazing
---